VIVID SYDNEY
Vivid Sydney is a unique annual event of light, music and ideas, featuring an outdoor 'gallery' of extraordinary lighting sculptures, a cutting-edge contemporary music program, some of the world's most important creative industry forums and, of course, the spectacular illumination of the Sydney Opera House sails.
It positions Sydney as the creative hub of Australia and the Asia-Pacific region, and delivers both innovative live entertainment and creative inspiration on a grand scale.
The creative people of the world – from industry professionals to aspiring practitioners to the merely curious – are invited to Sydney annually to watch the city transform into a breathtaking canvas of creative expression. For 18 days, creative practitioners, corporate professionals, families and people of all generations take advantage of Sydney's mild winter weather and engage with a truly spectacular event.
Vivid Light transforms Sydney into a wonderland of 'light art' sculptures, innovative light installations and grand-scale projections for all to enjoy – for free. It is a magical celebration of light-design excellence and the world's largest outdoor 'art-gallery': a unique Vivid Sydney experience.
Vivid Light engages lighting artists, designers and manufacturers from around Australia and the world to illuminate, interpret and transform Sydney's urban spaces for 18 nights through their creative vision.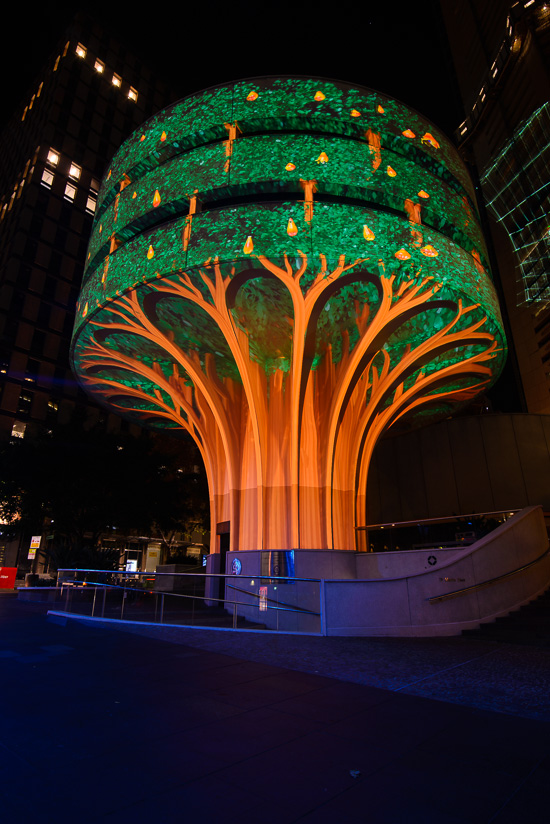 Vivid Sydney is where art, technology and commerce intersect
According to AGB Director Anthony Bastic Vivid 2014 attracted more than 1.4 million visitors to see the outdoor light exhibition. Generating around $10 million in income for the state, where as Vivid 2013 enthralled more than 800,000 visitors, contributing more than $20 million in new money to the NSW economy.
In 2014, the festival involved the Sydney Opera House, Walsh Bay, Circular Quay, The Rocks, North Sydney, Darling Harbour, and, joining in for the first time, Harbour Lights, The Star and Carriage works. A new projected work by London-based creative team 59 Productions illuminated the sails of the Sydney Opera House. 
VIVID SYDNEY LIVE
VIVID LIVE IS TWO WEEKS OF EXCEPTIONAL LIVE MUSIC AND LIGHT AT SYDNEY OPERA HOUSE. RUNNING FROM 22 MAY – 8 JUNE, VIVID LIVE IS THE HIGHLIGHT OF SYDNEY OPERA HOUSE'S YEAR-ROUND CONTEMPORARY MUSIC PROGRAM. Vivid Sydney 2015 will run from the 22nd of May until the 8th of June 2015
Reasons to attend Vivid Sydney Live
1. What started out as a little idea to boost winter business in central Sydney is now one of the city's biggest success stories. Vivid started in 2009 with four elements but has since been streamlined into three simple concepts – light, music and ideas – that unfold over 18 days. The event is now so popular that it attracts nearly 1.5 million attendees each year.
2. Grab a camera and experience Sydney in a whole other light. Australia's harbour city is gorgeous by day but, with help from the world's most cutting-edge artists and designers, it is transformed into something magical with light-art sculptures, grand-scale projections and installations in unexpected places.
3. Regular festival-goers look forward to Vivid's centrepiece event: the lighting of the Opera House sails. Previously, the iconic sails have become a canvas for projections that included snakeskin, butterfly wings and space-inspired patterns, and included imagery from musicians Brian Eno and Laurie Anderson.
4. While much of the after-dark sparkle is concentrated in Circular Quay and Darling Harbour, Vivid Sydney has expanded to five new precincts, all close to the CBD: Martin Place, Sydney Harbour, Carriageworks in Eveleigh, the University of Sydney at Camperdown and The Star at Pyrmont.
5. Many light installations are interactive, which adds up to hours of fun. In 2014 the 56 installations – created by 140 artists from 15 countries – included a work that allowed festival-goers to project a 3D image of their face onto a giant head.
6. Sydney's harbour watercraft also join in the Vivid fun. Ferries, cruise boats and water taxis are adorned with bright lights during the festival.
7. Darling Harbour showcases "dancing" water jets, sculptural fountains, full-colour lasers, video projections and marine fireworks during Vivid. 250,000 people watch the shows unfold hourly from 6pm until 11pm, with an extra show on Saturdays.
8. Vivid's cutting-edge music program covers everything from indie, pop and rock concerts through to classical orchestras – previous big names include The Pixies, Pet Shop Boys and Lauryn Hill. The gigs take place in venues ranging from intimate subterranean spaces through to the grand Sydney Opera House Concert Hall.
9. Vivid Ideas is the Asia Pacific's annual celebration of the creative industries. The expert talks cover fashion, design, film, animation, architecture, games, digital media, business and more.
10. North Sydney will once again be part of Vivid Sydney, lighting up the North Sydney business district as well as giving an amazing view of the city.
Mark your calendar. May 22: LIGHTS ON!
This year, the much anticipated Lighting of The Sails will be designed by multi-disciplinary design collective, Universal Everything. The bold, colour-friendly group has previously collaborated with Radio head, Warp Records and on large-scale events such as the London 2012 Olympics.
Leave a Reply